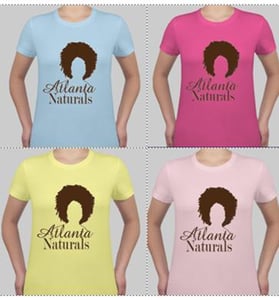 $

15.00 - On Sale
This is a screen printed with the Brown Atlanta Naturals logo. Screen printed shirts have that durable, vinyl-like look and feel.
Available in four colors tees. If you prefer another color, please contact us by email to see if we are able to get the color you need.
Please include your specific color with your order.
Available in Light Blue, Light Pink, Lime, Gold, Natural, White, Black, Sapphire Blue, Fuchsia (Hot Pink), Lemon Yellow, Bright Orange, Sherbet Orange (light), Red, Turquoise, Purple, Sand (Dark Beige), Kelly Green, and Pale Pink
This is a ladies cut shirt, so order by your junior/misses size. 100% pre-shrunk cotton.
Shipping: Select Free if you plan to pick up at upcoming event or $3.00 for shipping in Georgia.